These are the parts that I ordered from Brian Taylor, also ordered his 3 plans.
It was not so easy to find his address so for all the Brian Taylor fans, on the right you find it.

25 august 2003 l received the box from Vic http://www.vicrc.com
A fuselage, Spitfire MKIX details, like the spinner, blades, blisters, canopy frame, chin scoop, radiator coolers, cannons, etc.., laser cut wing parts are from Bob Holman and a pneumatic landing gear from Shindin
http://www.homestead.com/
shindinmachine/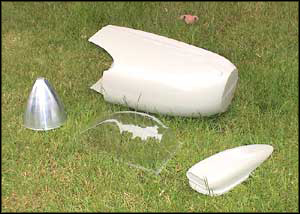 His address

Brian Taylor
26, Ashcroft, TA20 2JH, Chard, Somerset
England

Phone number: 0044 14 6065694

First I send him a letter without a response, and then I gave him a call, he's very friendly and the delivery was very fast.